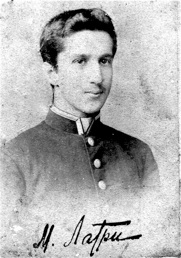 In 1896 Lattry studied landscape painting under A.I. Kuinji at the Imperial Academy of Arts, St Petersburg.   The following year he toured  Greece, Turkey and Italy before studying in Munich under Holloshi and Ferri-Schmidt.  He returned to St.Petersburg in 1899 where he rejoined the Academy and graduated in 1902.

These may have been painted in 1897  when Lattry was still at the Imperial Academy when he took leave to visit Venice and Austria,
Lattry also brought out  from Russia a few of his tempura, all removed from their stretchers and rolled up.  Some are shown here (still without stretchers).   A few are now in the Kournikova Gallery in Moscow.
Arkhip Ivanovich Kuinji (1842 – 1910)
During his early period   was influenced by Aivazovsky.   Later he lectured at the St.Petersburg Academy of arts.  A Professor since 1892 and professor-head of landscape workshop since 1894.  He was very fond of teaching and his students admired him.  Among his students were artists such as Mikhail Lattry,  Arkady Rylov, Nicholas Roerich, Konstantin Bogaevsky, and others.  He was dismissed in 1897 for support of student's protests).    Kuindzhi initiated creation of the Society of artists (1909; later – the Society named after A.I. Kuinji).