From   ART ET MODE (c 1925) by Bernard Saffroy
SOME WORKS OF MICHEL LATTRY
To reach Michel Lattry's workshop you must go right down the passageway at the end of Rue de Vaugirard.  Despite the obscurity of this part of town, once you arrive it is easy to find your way round and the pleasure of being there more than compensates for the inconvenient trip.
To use a well worn cliché, a woman of taste is guaranteed to find just what she is looking for to enhance her home: screens, occasional tables, wall panels and hangings, hand painted fabrics, lampshades, tea sets,cigarette boxes and other decorative containers plus the most beautifully designed boxes for cosmetics which will seduce even the most reluctant user.

These items demonstrate Michel Lattry's talent and individual style as clearly as any of his works. As the Ancient Greeks said "understatement is all" and Lattry's designs are far removed from both overwrought excess and the characterless designs of many of is contemporaries. His pictures are finely drawn; their precision and his choice of subject bring to mind the work of Persian miniaturists, currently popular.
It is a happy marriage which has produced a unique genre, confident in its peculiarity but drawing on current trends

The only criticism I would make of Lattry is his aversion to publicity. He rarely exhibits and his work is well known only to a small circle of connoisseurs.
***
Bernard Saffroy is right that Lattry was intensely private.   He came from a class and at a time when appearing in a newspaper was regarded as the height of vulgarity and to be avoided.  He kept a low profile unlike  successful artists of  today who are dependent on publicity and media interest.    This reserve was well understood by the connoisseurs at that time.  It has told against him in due course and he is now hardly known in France in spite of his large public murals, panels for the leading French furniture manufacturers and decorating ceramics for Limoges.
ODALISQUES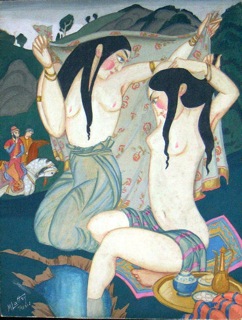 This picture is telling a story.  It shows two half nude odalisques bathing and having a picnic near a stream. One of them is holding a cloth behind her back to inadequately protect both from being seen by two horsemen in the background. One of these indicates a thinking position by stroking his beard. The curved neck of his horse shows it to be controlled and ready to obey.
The vibrant colours suggest  the freshness of youth. The purity of line, the distortion and the sophisticated composition are typical of Lattry's highly personal 'Orientalist' style, reminiscent of earlier French orientalism and the eclectic tenderness of the Ballet Russe. This was soon to lead on to the coming 'Art deco' movement and his later style.
This remarkable picture shows an odalisque, lying on a divan, who is half woman and half snake.
It can be seen as a series of clues.  The snake-woman suggests the dangerous and seductive aspect of women expressed in the agony of the  Romantic movement leading to 20th c. subconscious pathways.
Does her pensive attitude express regret and is that a payment on the side table?
Here she is in a sophisticated 'love pavilion'. This is suggested by the mirror and the extravagance of colour and decoration of the wallpaper and hangings. There is an interesting  balance of geometric and architectural shapes, circles, arches, lozenges and a whole world of floral and natural patterns displayed on carpets,  blankets, wallpaper and furniture. The gold crowns indicate a royal presence.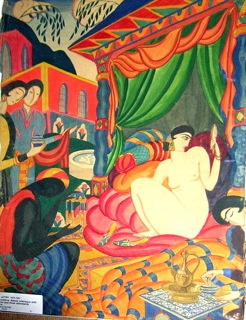 The next picture shows she has shed her snake half which lies beside her and is admiring her new found beauty as a complete woman and ignores her attendant and the admirers who come from far places to bring gifts. Her  facial outlines is hard, reminiscent of expressionist masks. At the same time she is no longer in a pensive mood but  proud of herself, her body, her beauty.
In a palatial garden, the  oriental influence is enhanced by  vivacious and sophisticated use of complementary contrasts, red-blue, red-green, and yellow-blue.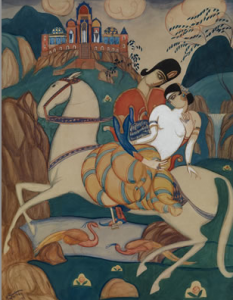 The subject matter may be part of a story as another version  entitled 'The Elopement.'  shows a Prince on a grey horse with the odalisque in a mountain landscape with exotic pheasants in the foreground.      Joanna Karg
This picture, or another version,  was sold by me through Christies.  It was later sold by Macdougalls, entitled 'The Lovers' and is now in the possession of a private collector in St Petersburg.   HAS