The house has gone and only the guest annexe remains.  Here Lattry entertained his friends of the 'Silver Period' of Russian art, including Lentulov, AN Tolstoy, Valoshin and many others of the Russian Intelligentsia.  Now only a bust of Lenin gloomily presides there.
In 1906 Lattry returned to his beloved Boran-Eli estate near Theodosia in the Crimea, which he had inherited, through his mother, from his grandfather. Here he successfully devoted himself to farming and breeding prize cattle but mainly to painting and to ceramics. Here he entertained his friends, who were to become known as members of the 'Silver Age' of Russian art.                                                                             See Next→ for an account.
Home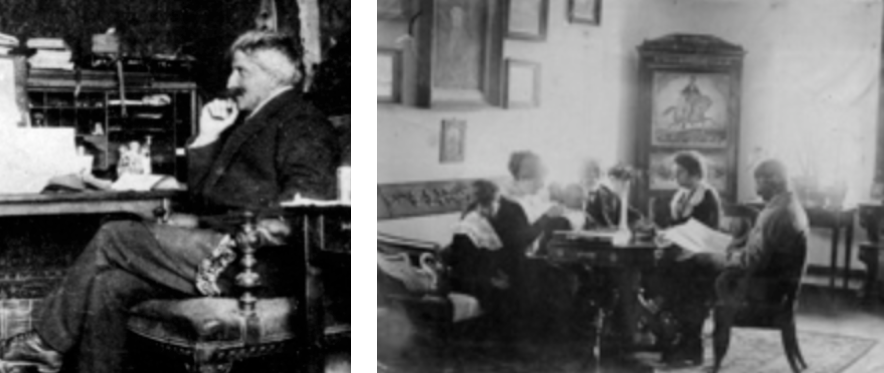 Lattry at Boran-eli in a group with his wife and little niece Olga (Sanford).    (From Arendt archive)
Peasant scenes
Escaping the horrors of the Russian civil war in 1920, Lattry had managed to take some of his works with him. Those are particularly marked by their poor condition caused by the luck of supply of good quality paper and pigments in the aftermath of the October Revolution.
Their style reflects the artist's interest in the traditional Russian art of lubok as well as folk art. This interest amongst the new generation, and the experiments of his fellow artists in the 1900s, such us Natalia Goncharova, Sergei Sudeikin and Ivan Bilibin, were some of the key factors in the development of the Russian Avant-Garde movement, which was later to spread to the rest of Europe