Lattry settled, in 1924, in Paris where he set up a studio as a charitable enterprise to help Russian refugees.   Vases, dinner sets, lacquered screens and table decorations were produced, inspired by Persian and Greek motifs.    These constitute some of his most original work and put him in the Art Deco movement. He worked mainly in tempura and gouache and less in oil.   Paris, at this time,  was undoubtedly the capital of the world of culture.  of fashion,  design,  theatre,   painting, the arts and ballet.
The Russian emigres, who most already knew Paris, were to play an important part and Lattry was one of them.
N.K. Roerich wrote about Lattry in his journal, "He loved the Crimea.  The elegy and majesty are captured in his paintings through the blue tone and the calmness of the outline. It was said that Lattry was in Paris and was fascinated by applied arts.  Art is one and should convey the beauty of life. Greetings to Lattry."
Н. К. Рерих писал в дневнике:    "Латри любил Крым, Элегия и величавость запечатлена в его картинах, в голубом тоне и спокое очертаний. Слышно было, что Латри был в Париже и увлекался прикладным, искусством. Едино искусство и всюду должно внести красоту жизни. Привет Латри".
PARIS  Lattry developed a very personal style in an 'Art Deco' idiom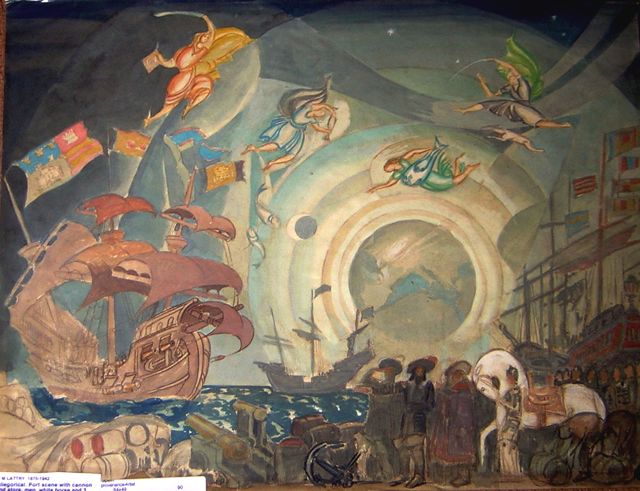 1910s-1920s was remarkable for a period of intense Russian creativity in Paris. The first wave of the painters, such us Marc Chagall, Chaim Soutine and Osip Zadkine arrived in Paris before the First World War to become significant members of the Ecole de Paris. At the same time Serge Diaghilev was staging his legendary Russian Seasons, with designs executed by prominent members of the Russia Silver and Avant-garde such as Leon Bakst, Natalia Goncherova, and Nicholas Roerich.
In the early 1920s, with more than 70,000 Russian émigrés, Paris became the capital of Russian art. Natalia Goncharova and Mikhail Larionov, Leon Bakst, Boris Grigoriev and Alexandre Iacovleff, members of the key artistic groups such as World of Art and Blue Rose, settled here and continued to work.
The exhibitions of Russian art were major cultural events. In 1921 the exhibition of the  Russian symbolists group World of Art was organised at the gallery La Boetie.  In 1928 there was another exhibition, shown in the Palais des Beaux Arts in Brussels.  Vassili Shukhaev commented: "I'm amazed by the activity of Russians abroad. So many works. So many events, if compared with the times before the war. All Old Russia failed to produce as much creativity as we see now abroad".
Lattry was not present in this highly productive milieu. His choice was to move on and dedicate his considerable creative powers to design. In Paris he followed his own path, and set up a workshop for ceramics and objets d'art.
He contributed to the creation of the Art Deco movement for it to become a true artistic style. He introduced an element of Russian nostalgia and refined 'decorativism' into European design drawing on Persian and Greek motifs.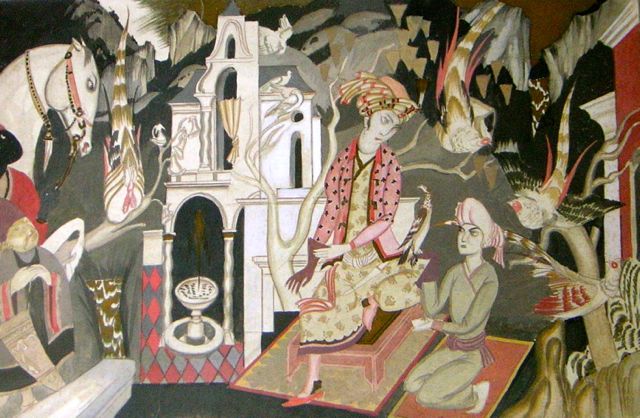 From   ART ET MODE (c 1925) by Bernard Saffroy→