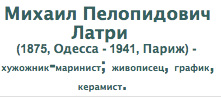 Mikhail Lattry was an important member of the Russian émigré art milieu in Paris. He was the grandson of Russia's most famous marine artist, Ivan Aivazovsky.
After graduating  from the Imperial Academy of Arts, St Petersburg in 1902 he returned to his beloved Boran-Eli estate near Theodosia in the Crimea.  For the next fifteen years he took part in many exhibitions and artistic activities.  These included the 1902 winter exhibition at the Academy of Arts as well as the 2nd (1905), 3rd (1906) and 9th (1915) exhibitions of the 'Artists New Society' in St Petersburg of which he had been one of the founders in 1904. In 1912-1913 he exhibited with the 'World of Art' association in St. Petersburg, Moscow and Kiev, and his paintings were reproduced in the well known journals such as 'World of Art' & 'Ogonek'.
His decorative ceramics, shown in Isdebsky's salon in 1909-1910, later became  important in the transition between Art Nouveau and Art Deco styles.   At this time, in 1910, Lattry became Director of the Aivazovsky Gallery in Feodosia, which his grandfather had bequeathed to the town in 1900.
During the revolution he escaped to Greece in 1920.   Here he was a director of the Royal Ceramic School in Athens and took part in excavations organised by the French Academy at Delos. He settled in 1924, in Paris where he set up a studio as a charitable enterprise to help Russian refugees.   Vases, dinner sets, lacquered screens and table decorations were produced, inspired by Persian and Greek motifs.    These constitute some of his most original work and put him in the Art Deco movement. He worked mainly in tempura and gouache and less in oil. His early work were landscapes of the Crimea and exuberant peasant scenes. He also painted an extensive Venetian cycle.
He died on February 11th 1941, and is buried in the Russian cemetery at St Geneviève-des-Bois (Tomb 6099).