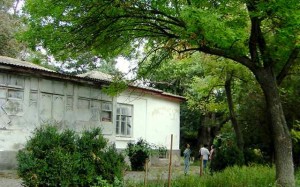 From Natasha Arendt:-   ' …. they are going to open museum ( part of Kimmeria Voloshin project , where Aivazovskiy gallery and The Voloshin house included .' … 'Everything goes well with Boran Eli so far. Now Larisa Verbitskaya, the main activist is going to give a lecture at the Voloshin house about Boran Eli. '.
So, Lattry's home still exists.  Natasha Arendt, whose father lives at Koktebel, nearby, says there is a move to turn this into an Art Centre and sent me these photographs.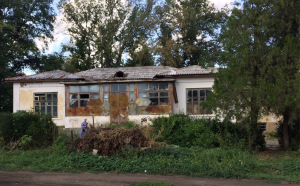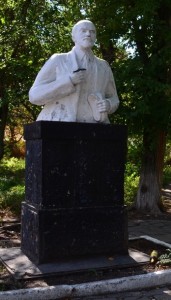 The ghastly bust of Lenin can just be seen in the background, beyond the car.   There is, in the West, a popular 'PC'  vogue  to pull down the statues of those perceived as tyrants.  This should be resisted.  But why not an added memorial to the many millions of his victims?
Shown are the project activists sitting on the steps on which we saw the artists, guests of Lattry, of the Silver period in 1912.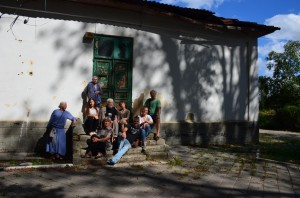 The Boran-Eli project

Has a number of advantages.

For the local people and community.   It would provide employment and increased revenue through tourism.

For Central Crimea.  It would renew the artistic links which this area had in the past.

Boran-Eli itself was the estate of Mikhail Latri who became important in the Art Deco movement in Paris in the post-war period.   He was a grandson of Ivan Aivazovsky from whom he had inherited Borran Eli through his mother,  Julia. the eldest Daughter of Aivazovsky.

With him it became a centre for the innovative artists and poets of the Russian silver period.  Later their avant-garde work was to influence the whole of the modern movement in art

I visited the location in 2005.  I understood that at the existing building was only a guest annexe for his many friends and it looked decrepit.   Actually I now understand that it was the main house and it has ample room for exhibition space.

A permanent exhibition of Latri's work can be lent by the Aivazovsky gallery in Feodosia,   Including his ceramics which were important.

It can also be associated with the Valoshin Gallery in Koktibel.

There could be a scheme for young artists to spend a holiday here and become associated with the gallery.

With adequate sponsorship there could be a prize for work along the lines of the Venice Bienale. Which should be of interest to the authorities in Feodosia,

It should be of interest to the Russian government as it indicates to the world the improvement in the status of the Crimea and reverse the dire perception in the West.

I might even have a place in 'Conflict Resolution'.

Henry Sanford  Thursday, 16 January 2020